New York • San Francisco • Portland, Maine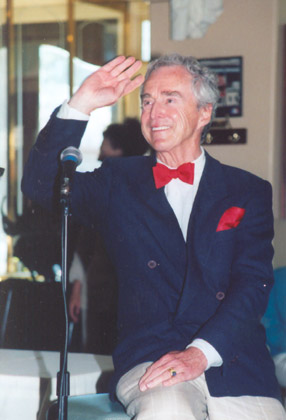 absolutely, unequivocally love to perform on stage!
However, I loathe the process of getting there: preparation, auditioning, call-backs, waiting ... more call-backs (maybe) ... rehearsing, running lines, etc.
When I am fortunate enough to be cast in a play, film or commercial, I am ecstatic: ego at full mast, confidence to go around the room, and hope up there with the proverbial kite.
A dilemma, would you not say?
Maybe that's show business after all, and I am not unique to the scenario I present. In any event, I am quite proud to share some of these wonderful experiences from yesterday, with the fervent belief that there are definitely more to come!
As a performer, I am aware of what is ultimately most important – to produce, to entertain and satisfy your paying customer: The Audience!

hese three full-length musicals utilize music, dialogue, patter and dance. Pat Yankee and I are the principal performers, backed by an eight-piece band. Each show was premiered at a major jazz festival or performing arts center, and traveled to other major festivals and centers around the country.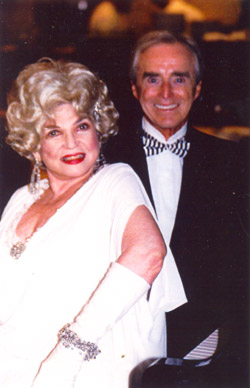 Remembering Sophie Tucker
Remembering Sophie Tucker is currently being booked around the country. It is a tribute to the First Lady of Show Business, and the Last of the Red-Hot Mamas. Pat actually met Sophie on two occassions, and talks about that in the show.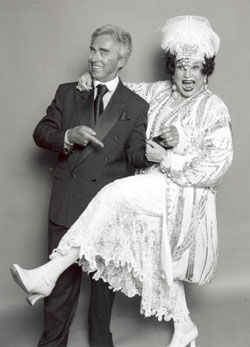 To Bessie, With Love
To Bessie, With Love, a tribute to Bessie Smith, the great Empress of the Blues, contains forty historical slides emblazoned over the performers and the band during the show. This show was adapted for television by ABC's
San Francisco station for airing.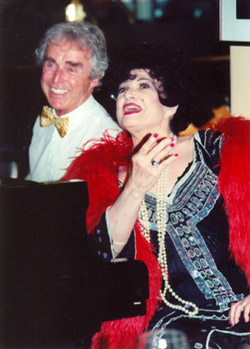 Salute to Saloon Tunes
Salute to Saloon Tunes is a bawdy, fun-loving journey through the history of the American Saloon, from sawdust, spilled beer and spitoons on the floor to the contemporary Billy Joel's Piano Man bars and the Cosmopolitan-and-bottled-water set.
All three of these shows are currently available for booking and/or independent production. For booking and production information please drop me a line.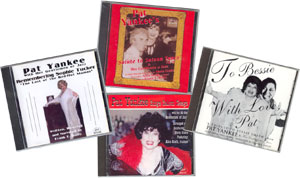 CDs of the shows are also available, and can be purchased through Pat Yankee Jazz.
Click here to witness some more of these characters at your own risk!